We have found you 9 amazing parks that are lush and green and provide plenty of good old fashion fun that connects you and your kids with nature and history.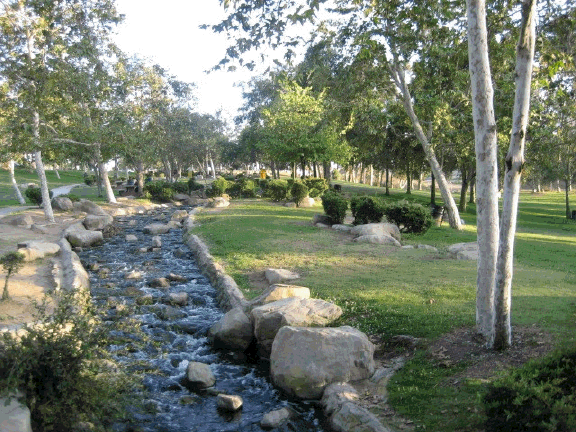 4100 S La Cienega Blvd
Los Angeles, CA
Kenneth Hahn State Park includes large areas of native coastal sage scrub habitat, lawns and landscaped areas, picnic sites, tot lots, fishing lake, lotus pond, community center and five miles of trails with a spectacular view of Los Angeles. One of the most actively used features is the park's variety of footpaths and trails.
751 Echo Park Ave
Los Angeles, CA
With the arrival of the new swan boats, Echo Park boats are a great way to enjoy the outdoors with your family. The stylish swans feature the option of a shade covering for sunny days, and are easy to maneuver and are a great fun for the entire family. You can also picnic at the park, or have breakfast inside the famous boathouse.
6300 Balboa Blvd.,
Van Nuys, CA 91406
Lake Balboa is a great park for picnicking and some family Barbecue. It also has Children's Play Area, Jogging Path, Walking Paths, and Bike Path. Or you can rent swan boats, fly remote planes, kites, feed the ducks, and hike the 2 mile train.
3601 S Gaffey St
San Pedro, CA 90731
Resting peacefully on the knoll overlooking the sea gate, the Korean Bell of Friendship site affords an amazing view of the Los Angeles harbor, the Catalina Channel and the sea terraces of San Pedro hill, and the park has several great picnic areas.
360 N Arroyo Blvd
Pasadena, CA 91103
Brookside Park is Pasadena's second largest park consisting of 62 acre of scenic green space. There is plenty of open space to run and play along with some shade near popular pirate ship-themed playground, which is a must see. You should also take your bikes, and enjoy a ride around this massive park.
1501 Will Rogers State Park Rd
Los Angeles, CA 90272
During the 1920s, Will Rogers bought a land consisting of 359 acres overlooking the Pacific Ocean in Santa Monica, where he developed a ranch. The ranch became the place where Will Rogers could relax with his family and friends, pursuing his favorite pastimes of riding and roping. In 1944, his widow, Betty, gave the ranch to California State Parks and it became a state historic park.
On Thursdays and Fridays, you can take a public tour of Will's ranch house every hour from 11a.m. to 3 p.m. and on Saturdays and Sundays every hour from 10 a.m. to 4 p.m. You can also enjoy hiking, horse riding lessons & trail rides, picnicking, and polo games, which are held every weekend, except Memorial Day, the 4th of July, and Labor Day. Six times a year, movies are shown at the park.
5801 Wilshire Blvd.
Los Angeles, CA
The bones of thousands of prehistoric animals that had been entrapped during the Ice Age in pools of tar that bubbled from beneath the ground were exhumed from this site. You don't need to pay for admission to walk around the Pits or enjoy the park. The park is picnic and dog-friendly, and a wonderful place to enjoy the outdoors.
7550 E Spring St
Long Beach 90815
El Dorado Nature Center is an oasis of natural habitat, offering you a chance to escape the hustle and bustle of the urban environment. With 105 acres, this park provides sanctuary for animals and plant life and features two miles of dirt trails and a ¼ mile paved trail wind around two lakes, a stream and forested areas. At the entrance, cross over the wooden bridge that spans the lake and you'll find yourself on a small island that houses the Visitor Center, containing educational displays, art gallery and a small gift shop offering environmentally themed books and gifts.